Happy Easter to all our members and supporters 
Webinars 
We had some fantastic webinars in February and March. 
Lina from NCBI

Bookshare

gave us a tutorial on how to download school and leisure books, and Daniel, tech guru from NCBI discussed what to look for and how our children can get the best out of their tablet. Both Lina and Daniel answered all our parents' queries and questions. 

 

We were so lucky to have

Dr David Coleman

advise our parents on how best to speak to our children about their vision loss and how to positively frame the discussion. It was a fantastic turn out, with over 200 registered. 

 

Our

Braille

webinar with Edel and Martha from NCBI was well attended also, especially for such a niche area. It was a really empowering webinar, giving parents the information to make the right decision for their child.

 
The Bookshare and Braille Webinars are available on Féach's YouTube page.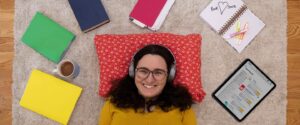 Campabilities and May Fest 
With our intrepid campers home from a busy week we spoke to first-timer Laoise on her experience. We hope it will encourage parents and children to sign up for next Easter. 
L – "Doing NCBI camps is good because you don't have to feel weird about asking to see things close up or in bigger print. They consider every VI and adjust to your needs. Campabilities made me confident in socialising and rock climbing. Rock climbing and bouldering was my favourite activity. Our dorm was very chatty. There were 6 girls in my room. I loved the day in UL we did discus, long jumps & running and I was good at that. I was very tired all week. I learned sculling in swimming. I enjoyed Judo & learned how to do a headlock. We did karaoke, crafts, cookie decorating & baking in the evenings. Our protein balls smelled funny so we made our leader Damian eat them." 
We also highly recommend all our families sign up for MayFest in UCD this May 27th & 28th. It's a great opportunity for all family members (siblings and parents included) to try a huge range of sports and activities. We spoke to a parent and sibling about their first year last year.  
N – "We are not the sportiest family so thought it was a great way to have a little tester of everything and see if there was anything the kids gravitated towards. We caught up with some families we'd met at other events and met some new families too. It was so friendly and it was really relaxing not having to explain the vision issues or behaviours to anyone. We, should I say the kids, tried swimming, rock climbing, rowing machines, yoga, tennis, soccer, conditioning and athletics. This year I think we'll give golf and tandem cycling a go too, as there was so much on last year we didn't get a chance. What I enjoyed most was that siblings could come along too, and were as welcomed and included as the VI person." 
S – "Mayfest is a fun experience for all ages, I think. Even if your kid has a fear of something they can try out something new and it might wash away the fear. Your kids can push themselves to be better. If they are not good at one thing, they can try something else and they might be amazing at it and love it. I really enjoyed the rowing machines, I'm not good at running but I was surprised I was so strong, my friend and his dad and I went against each other. Rock-climbing was fun but I was afraid. I'm looking forward to trying it again this year. We joined soccer late but we enjoyed it. There was swimming. I tried tennis even though I have full vision, some people did it blindfolded. I was very bad, but it was silly and fun. Even if you are not good you will have the craic at it."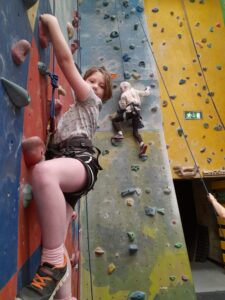 Yoga 
Aoife from Life in the Blurry Lane who will be returning to Ireland after 10 months travelling in a campervan around Europe! As a qualified yoga instructor, she is well aware of how inaccessible yoga can be for VI/Blind people and is hoping to offer 4 free classes for our members and their families (over 13 yo) please email hello@lifeintheblurrylane.com for more information.  
Micro:Bit Coding 
Some of our younger members (8-12yo) had sessions with Emilie Giles and Declan Meenagh, learning how to code. This project started last summer with a mix of ages and levels of vision. The follow ups have been broken into more relevant groups. Dr Emilie Giles from Arts University Bournemouth (AUB), in the UK, ran a series of workshops online, along with Dublin based programmer Declan. This is linked to an AUB research project so participation was completely free of charge, as was the kit! The hope is to explore how programming can be made more accessible, fun and creative for blind and visually impaired participants and in time, disseminate our approach and findings to other educators, researchers and designers so that this more tactile approach to programming can be more common. More workshops will be running so keep an eye on our Social Media feeds. 
New Website and emails 
We are delighted that we can announce our new-look website at our original address of www.feach.ie. Check it out! We have a new info@feach.ie email address but all our old emails will reroute so don't worry! The site is now up and running in full and is kept updated regularly. 
Family day  
Save the Date  
September 23rd Portlaoise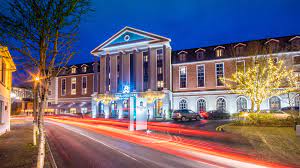 Aoife Kearney continues to run our Peer to Peer support group. This meets on-line every second Thursday in the month from 8 – 9pm. Feedback tells us parents are finding it a great support and a great way of chatting to others in similar situations. Contact aoife.kearney@feach.ie to book your place  
Don't forget to talk to your school about Summer Provision, if the school is not providing it, your child is entitled to 4 weeks at home tuition. Speak to your school/Féach/VT/NCBI, they will all help you come up with a plan for how best to use the time. Details here 
Fundraising  

A big shout out to parent Fiona Merrigan who is running the VHI Womens Mini Marathon for Féach. Click here to support Fiona . If you want to fundraise for Féach get in touch with us, we will give you plenty of support.